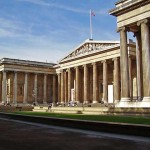 The British Museum is a museum of human history and culture in London.
Free to visit, its collections, are among the most comprehensive in the world, numbering more than 7,000,000 objects.
If you want to visit just one museum, then this is the one to go for!
Some exhibitions are charged for and can be quite expensive if you are visiting as a family.
2010 Exhibitions include:
Kingdom of Ife: sculptures from West Africa, Until 6 June 2010. £8, Members free.
The Staffordshire Hoard (extended run) Until 17 April 2010. Free.
Ruin and rebellion: uncovering the past at Tutbury Castle Free.
Treasures from Medieval York: England's other capital, Until 27 June 2010. Free.
Revolution on paper: Mexican prints 1910–1960, Until 5 April 2010. Free.
Warriors of the Plains: 200 years of Native North American honour and ritual, Until 5 April 2010. Free.
Swimming reindeer: an Ice Age masterpiece, Until 11 April 2010. Free.
Fra Angelico to Leonardo: Italian Renaissance drawings, 22 April – 25 July 2010. Admission: £12, Members free.
Impressions of Africa: money, medals and stamps, 1 April 2010– 6 February 2011. Free.
Journey through the afterlife: the ancient Egyptian Book of the Dead, 4 November 2010– 6 March 2011. £12, Members free.
South Africa Landscape: Kew at the British Museum, 29 April – 10 October 2010. Free
The museum is situated in the heart of central London, close to tube stations (the nearest being Tottenham Court Road), bus routes and within walking distance (0.8 of a mile) of Euston Station.