Now privately owned, the Castle has undergone complete restoration and is available for private hire. The grand Medieval and Jacobean architecture has been combined with modern luxuries, making Caverswall Castle the perfect setting for your special event. Just as royal visitors have done in years before, you can relax and entertain your guests with style, imagination and freedom. Caverswall Castle is not a hotel and is only available on an exclusive basis for corporate events, as a wedding venue, romantic private dining, product launches, photo shoots or film locations.
The house, built into the remains of a 13th century castle was granted a licence to crenellate in 1275. The remains comprise a roughly oblong enclosure with four polygonal angle towers, which, with the walls, do not stand to full height. A gatehouse on the east side leads on to a bridge across the moat. The house was built into the castle circa 1615 and was extended and altered circa 1890. The moat has been landscaped to form an ornamental feature.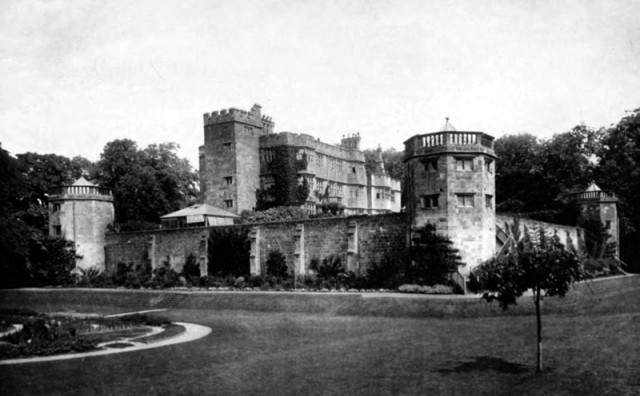 This castle stands near Cheadle, 1½ miles N. of Blythe Bridge railway station. In 3 Edward I. (1275) William de Caverswell had a licence to crenellate mansum suum, which is probably the date of the erection of the original castle. In "Magna Britannia" it is said that (temp. Richard I), Thomas de Caverswall had the lands here; his son was Sir Richard, Knight, and his grandson, Sir William, built "a goodly castle in this place, the pools, dams, and houses of offices being all masonry". His son was Richard (temp. Edward III.), and his descendants enjoyed it till 19 Edward III., when it passed to the Montgomerys, and from them through the Giffards and Ports to the family of Hastings, Earls of Huntingdon, who were owners in the seventeenth century. By that time the old fabric must have become ruinous, and it was sold to Matthew Cradock, son of George Cradock of Stafford, a wool merchant and clerk of assize, whose ancestor, Francis Cradock, was returned Member of Parliament 1585; he built a good house upon part of the site of the old one. Temp. Charles I. in 1643: "it is ordered that Mrs. Cradock shall have towards the fortification of her house at Carswell, liberty to take, fell, cut downe and carry away any timber or other materials, from any papist, delinquent, or malignant whatsoever". Thus assisted in the cost of their new house at the expense of their neighbours, the Cradocks enjoyed it but for a short while, since, twelve years later, the property passed by the marriage of their daughter to Sir William Jolliffe, after which it came to Viscount Vane. In 1830, it belonged to the Hon. Booth Grey, brother of Lord Stamford, by whom it was sold to Mr. Brett, banker, of Stone, and was then formed into a nunnery for sixteen sisters and their confessor.
Leland calls it "the castell or prati pile of Canerwell". In Caverswall Church is the founder's tomb with the inscription "Willielmus de Careswellis", and these hexameters:
Castri structor eram, domibus, fossisque cement
Vivis dans operam, nunc claudor in hoc monumento".
to which the following lines were added subsequently:
William of Careswell here lye I,
That built this castle, and pooles herebye:
William of Careswell here thou mayest lye;
But thy castle is down and thy pooles are dry.
The Carolean mansion is a large rectangular building of three storeys above the basement, with heavy mullioned and transomed square windows, and battlemented parapet. At one end rises a fine lofty rectangular tower, also battlemented, which Parker calls a good imitation of a mediaeval castle, the whole being probably built on the old foundations. This range occupies one side of a large half-pentagon enclosure once surrounded by a wide and deep moat, which is shown in West's views (1830); from the inner side of the moat extends a well-buttressed wall, having at each angle a small octangular tower, with a conical roof behind the parapet. The moat has now been filled in, and its space is occupied by a flower garden.
Many alterations have undoubtedly taken place since the drawing given in Dr. Plot's "Natural History of Stafford" (1686) which shows a different sort of house, Jacobean or older still, with flat tops to the water turrets, and a stone bridge of two arches between the castle and the land, as in the days of William Jolliffe. In the old "Magna Britannia" it is said: "Careswell was, in the twentieth year of the Conqueror, held of Robert de Stafford by Ernulph de Hesding, but hath long been the lordship of a family of the same name, ancient and gentle, descended probably from him. The castle in the beginning of the seventeenth century was in reasonable good repair, but was suffered to run into decay (if not ruinated on purpose) by one Brown, the farmer of the lands about it, lest his lord should be at any time in the mind to live there and take the demesne from him". (Castles Of England, Sir James D. Mackenzie, 1896)