The Malvern Hills have been described as a mountain range in miniature, the eight mile ridge containing some of the oldest rocks in Britain, their craggy outline giving the impression of uplands further west. You can enjoy over 4500 acres of open countryside climbing to the highest point at Worcestershire Beacon or enjoying the quiet ramblings along the wooded slopes.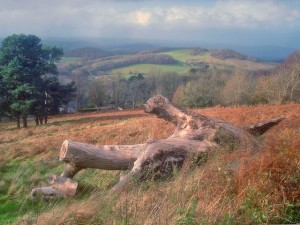 The Malvern Hills Area Of Outstanding Natural Beauty is unique for containing a wide variety of landscapes in a small area, ranging from the high hills and slopes of the main ridge of the hills, to the relatively flat, enclosed and unenclosed commons, which lie to the east and south-east. The north of the AONB is dominated by densely wooded, interlocking areas of ancient, semi-natural woodland. This contrasts sharply with the open, arable sandlands to the south. The landscapes of the west of the AONB roll gently and have a more organic feel. They contain combinations of farmland, woodland and hedgerows in different proportions.
Great for:
Walking
Dog Walking
Sponsored Walks
Horse Riding
Mountain Biking
Orienteering
Hang Gliding
Model Aircraft
Fishing
Climbing
Sub Aqua
Kite Flying
Football
Trails
Field Studies
Tourist Information Centres are in Malvern and Ledbury, or visit Herefordshire and Worcestershire tourism websites.
Great Malvern is about an hour by train from Birmingham.