One of the great world museums. Over three million people visit the Museum each year, more than the population of London when the Museum was built, in 1881. Thirty galleries, including the famous dinosaur collection.
Winner of Sandford Award 2009.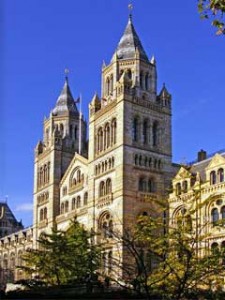 The museum is a magnificent experience and offers huge amounts to see and do.
The new Darwin Centre with its cocoon building, Attenborough Studio and Angela Marmont Centre for UK Biodiversity is located in the Museum's Orange Zone. It is accessed through the Natural History Museum.
The Museum is a leading resource for science and geography education. The school programme caters to all ages and levels .
Nature online – explore the natural world without leaving your home