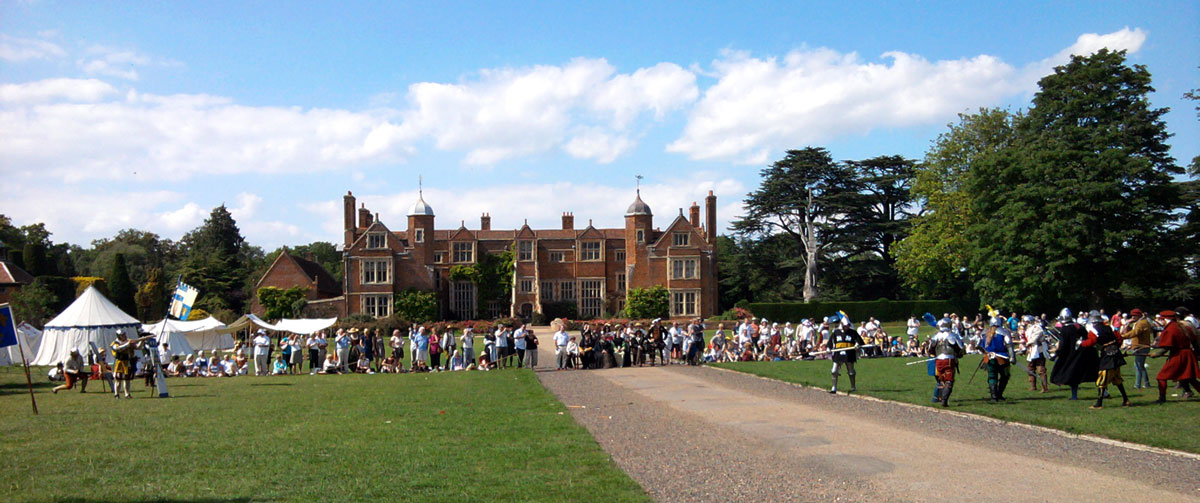 A fine C16 red brick moated mansion, the seat of the Clopton family for about 300 years. (1308-1618). A will dated 1563 records the house as new at that time. It stands in a park of 130 acres at the end of an avenue of limes, nearly 1 mile long, planted in 1678 by Sir Thomas Robinson.
The house is built on an E shaped plan and was described in the C19 as a "very fair and rich house with 12 wainscot rooms and a park stored with above 150 deer".
It is a very good example of a C16 manor house of considerable size and externally is surrounded by a moat with brick revetments and is approached by brick bridges on the south and west sides. The south-east front is of 3 storeys with a parapet. A central 3-storeyed porch projects on the front, gabled, with diagonal buttresses and flanked by 3-storeyed gabled bays. Wings extend to the south-east of 2 storeys and attics, with square bays facing the open court and at the south-east ends. At the south-west and south-east corners of these wings there are large octagonal turrets with ogee domed roofs with weather vanes. The windows are mullioned and transomed latticed casements. The bays on the south-east front have large windows of 20 lights. The roofs are tiled and the south-east wings have 2 gabled dormers on the inner fronts. All the gables have finials and all the chimney stacks have blank arcading on the sides.
At the south-west end there is a picturesque group of buildings, part of it with a jettied upper storey with exposed timber-framing. The roof is tiled, with 3 gabled dormers. Some of the windows have fine stained glass, some of it dating back to the C14. There is one window with coats of arms of the Clopton family.
The interior was remodelled by Hopper after a fire in 1822. There is a large stone fireplace of circa 1730 in the dining room and a late C17 open well staircase which may have been inserted in the house later.
There is a very interesting building on the west of the hall which is probably a surviving part of the original house, used as a barn or outbuildings when the new hall was built. Built of red brick with a garderobe over the moat, with cruciform arrow loops. Part of the west front at the north end is 2 storeyed with exposed timber-framing and brick nogging. The upper storey is jettied. Roof tiled, with stopped gables at the north and south ends and 3 gabled dormers on the west side. The interior is mostly open to the roof and there are many blocked window openings. The heavy roof timbers are smoke blackened. The moat is complete with brick revetments and is crossed by brick arched bridges on the south and west sides. (Historic England)