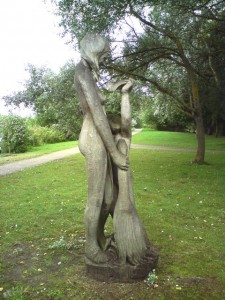 Needham Lake is a popular countryside attraction centred round a flooded gravel pit alongside the River Gipping close to Needham Market.
The park also contains the restored Bosmere Lock of the Gipping Navigation Canal from Stowmarket to Ipswich.
The Lake is home for a variety of wildlife with numerous well-fed ducks around the car park. A walk around the surfaced lakeside path takes around 20 minutes and gives access for visitors wishing to explore further. LakeView
There are picnic and play areas with many picnic tables dotted around and plenty of grass for games. There is play equipment for young children close to the car park whilst slightly older children can enjoy a new (2010) climbing boulder. A new orienteering course has been created and can be enjoyed by families, groups or schools.