Part of a moated and fortified manor house, built in the late 13th century. The west range and a circular corner tower survive, with a later wing adjoining to the north east. Now a farmhouse. (Pastscape)
The castle is a private residence and mot open to the public. It was sold in January 2004 for £1,225,000.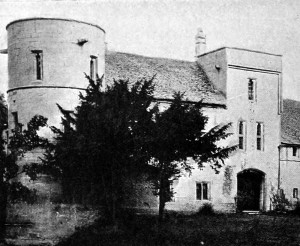 Woodcroft Castle is situated about six miles N. of Peterborough, near Helpston Station, in the parish of Etton. It can scarcely be called a castle, but being provided with a moat, and originally two strong towers, it was a place of some strength. The moat was once carried round the four sides of a quadrangle, measuring about 110 feet square: one entire side of this and part of an adjacent side were occupied by the house, the point at the N. end where these two members meet at right angles being protected by a circular tower of three storeys: there was once a corresponding tower of the other end of the principal front. The moat is wide and washes the other fronts of the house, having been filled in elsewhere. It is supposed that the quadrangle may have been completed by offices and other buildings of wood and plaster. (See vol. i. of H. Turner's "Domestic Architecture", and vol. ii. p. 249, where a drawing of the castle is given.
In the reign of Henry III. Herbert and Roger de Woodcraft held half a knight's fee of the Abbot of Peterborough (" Burgh"), and in the 26 Edward I. Lawrence Preston held one quarter fee of the same head. Temp. Henry VI. John Baxsted was there, and was killed at the battle of Northampton in 1464. Then, in 29 Henry VIII., William FitzWilliam held part of these lands, and 18 James I. Sir William FitzWilliam died seised of Woodcraft Manor; from him it has descended to its present (1896) possessor, Earl Fitzwilliam.
In 1648 the old manor-place of Woodcroft was formed into a Royalist garrison, under the command of Dr. Michael Hudson, a Westmorland man, who had fought at Edgehill in 1642, and then, retiring to study at Oxford, became a D.D., and was appointed chaplain to the King. In company with Mr. Ashburnham, he attended Charles I. when, in those perplexing days at Newark, he put himself in the hands of the Scots army. Then the Parliament got hold of the doctor, and placed him in prison in London, whence he made his escape; but being retaken at Hull, he was sent to the Tower. Here he escaped again, early in 1648, and going to Lincolnshire, raised a body of horse, and retired to this stronghold of Woodcroft, where he entrenched himself with his party against the Parliamentary troops. These, however, attacking on June 6 got possession of the house, when Hudson, with some of his picked men, retired into the tower, and there defended themselves for a long time. At last he yielded upon promise of quarter, which faith the Roundheads kept by swarming up and throwing Hudson over the parapet, and on his clinging to a stone gargoyle to save himself, they chopped off his fingers, so that he fell into the moat "much wounded"; here, while swimming ashore and praying to be allowed to land to die, he was knocked on the head by a soldier with the butt end of his musket. A savage, "a low-bred shopkeeper of Stanford", cut out poor Hudson's tongue, and carried it about the country as a trophy. His friends, however, buried him honourably at Effingham. Dr. Hudson is the original of Dr. Rockliffe in the novel of "Woodstock".
Hudson Turner is of opinion that the excellent architecture of this house is rather of the fourteenth than the thirteenth century, and that it was, perhaps, built under the guidance of John cle Calceto (Caux, in Normandy), who was Abbot of Peterborough in the reign of Edward I., and built there the beautiful gate of the Bishop's palace, which, like this house, has some foreign peculiarities. The main front on the W. is two storeys in height, but in its centre rises a square tower of three storeys, under which is the arched entrance to the interior, passing through, under two large arches, without any doors opening into the building, and having, at the back, a square projection with a staircase. The basement of this wing is lighted by small windows, and the principal storey, containing the hall on one side of the entrance tower, has the square-headed trefoil windows of the period in question divided into two lights by a transom. The room over the gateway (in which there was no portcullis), was used as a chapel, and lighted by a large square-headed window. This room communicated by a staircase with the basement and the roof. The round tower is divided into three storeys, which are marked by five fine bold mouldings, and its basement is peculiar in having no communicating doorway; so it must have been used as a prison, or storehouse, by means of a trap-door. The place is now a farmhouse. (Castles Of England, Sir James D. Mackenzie, 1896)