Also known as Barnwell St. Andrew's Castle it was constructed in 1266. It was oblong in plan with round and D-shaped corner towers and a gatehouse at one corner. Nothing remains within the walls as the buildings were demolished circa 1540. Remains of the walls and corner towers were excavated in 1980. The interior of the castle was probably used as a farmyard during the 18th and 19th centuries. The site is privately owned and now houses a tennis court.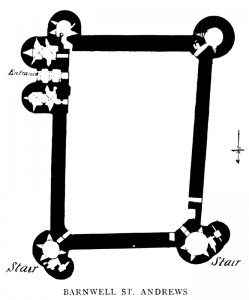 This village is on the E. side of the county, bordering on Huntingdon, and, like the adjoining parish of Barnwell All Saints, is said to derive its name from certain springs of water, called holy wells, of which there are several in both parishes, believed to possess hidden healing virtues, it being an ancient custom in the district to immerse sickly children, or bairns, in their waters, with devotional exercises, for the supposed benefiting of their bodies.
In the time of Henry I. a castle was built here, about 1132, upon the Castle Hill, by Reginald le Moine, who held the manor of the Abbot of Ramsey in Hunts. Another le Moine, Berenger by name, is said to have rebuilt this castle in 1264, and ten years later, on inquiry being made by Edward I. as to the authority and warrant on which he had built it, Berenger is stated to have sold or ceded his whole right to the castle and manor to the abbot, under whom he held it: perhaps he was forced to do so, as we hear of his committing acts of hostility against the said abbey and its monks. The castle and manor, at all events, remained in the possession of the abbey till the dissolution, when (32 Henry VIII.) the property was granted, with other Church lands, to Sir Henry Montague, Knt., Chief Justice of the King's Bench, and ancestor of the Dukes of;Manchester (see KIMBOLTON, HUNTS), in whose family it remained at the beginning of the 19th century. It was the residence of Sir Edward and of his descendants, but afterwards was partially demolished.
The remains of this castle are a large quadrangular-walled court, with four huge circular towers at the corners; the walls are lofty, but are only 3 feet in thickness; three of the curtain faces remain, but the W. face is down. On the S.E. side the grand gateway still exists, flanked by two circular towers; it has two pointed arches and an opening for the portcullis. There was a good chamber over the entrance, and on each side of it were doors opening into rooms in the towers. A postern also exists on the W. side, with doors into the bastions and door cases still entire". (Bridges.) The present dwelling house, belonging to the Duke of Buccleuch, was built early in the seventeenth century, about 50 yards from the old thirteenth-century castle, and out of its stones.
Regarding the rise of the Montagu family, it is said that when Queen Isabella and her companion Mortimer were plotting at Nottingham Castle (q.v.) against the young King Edward III., it was noticed that his friend, de Montecute, rode away secretly one morning from the castle; that very night he returned at dark with a force and accompanied by the King, and gained access, by the gallery through the rock (as related under NOTTINGHAM), to the private apartments of the Queen, where they made prisoner of Mortimer. In 1337 Edward made Montacute Earl of Salisbury, and gave him Wark Castle, in Northumberland, where occurred the story of his beautiful Countess and Edward III. (See WINDSOR.) (Castles Of England, Sir James D. Mackenzie, 1896)